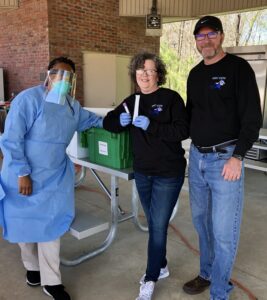 Gwinnett's Medical Reserve Corps (MRC-GEM) is a volunteer, non-profit organization that has helped our community immensely during the COVID-19 pandemic. Since March, MRC-GEM has contributed over 2,200 volunteer hours to support our local health department efforts and has recruited close to 300 new recruits. Volunteers range from as young as 18 years old to over 80! Only about 1/3 of the volunteers have a health science or medical background. The other ⅔ come from varying professional backgrounds that support the full scope of the corps work.
Credentialed healthcare workers take on direct care roles helping with testing procedures, vaccinations, medical guidance on next-steps, mental health support, and more. Non-medical volunteers assist with tasks such as volunteer recruitment and coordination, administrative tasks, operational and logistics support, contact tracing, remote testing site set-up and take-down, etc. Students in the community love working with MRC-GEM because they get valuable CPR and emergency response training, as well as receive hands-on medical experience as they pursue careers in health science.
If you want to learn more about how to get involved with MRC-GEM, visit their website today!