Gwinnett Cares is an online grassroots effort that's spun from a large group of community stakeholders (citizens, municipalities, businesses, non-profits, schools, faith community, healthcare providers, civic clubs, etc.) to streamline communication to Gwinnett's population of a million+ people about how to get and give help during COVID-19.
The Gwinnett Coalition, the Community Foundation of Northeast Georgia, and United Way of Greater Atlanta – Gwinnett began the conversation, but hundreds of organizations have come together to power it.
Our goal is to synchronize Gwinnett's existing support services and infrastructure to effectively address real-time needs across our community. Response teams, made up of community leaders and subject matter experts, have formed in 5 key focus areas:  
Food Insecurity & Supplies             
Homelessness & Housing                
Healthcare Access    
Educational Support
Workforce Development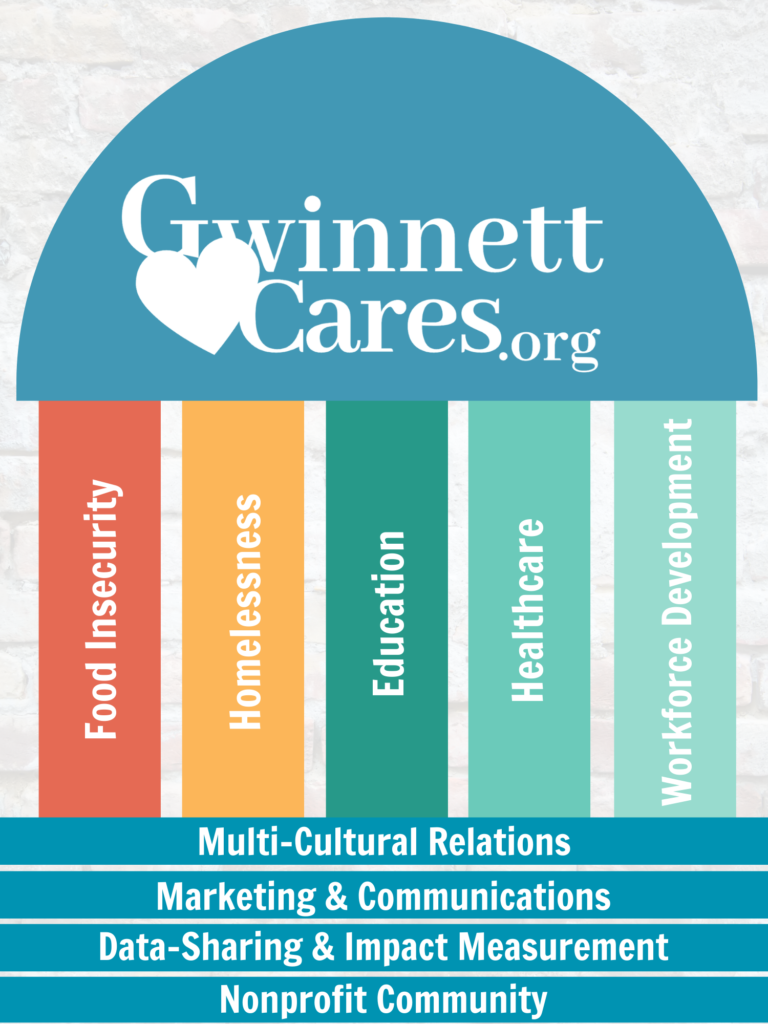 Additional support teams were developed to provide critical resources and expertise to the response teams in theses areas:
Multi-Cultural Relations
Marketing & Communications
Data-Sharing & Impact Measurement
Nonprofit Community  
Teams meet virtually at least bi-weekly to strategize how to best care for our community through COVID-19. They are focused on immediate and emergent needs seen in the short and long-term. They are actively working to craft relief and recovery plans in each focus area and identifying opportunities to pursue public and private funding to support the real-time needs in Gwinnett. 
While the COVID-19 health crisis spurred the Gwinnett Cares movement, we anticipate it will live on long after the pandemic passes to help further strengthen communication about people in need in our community can get and give help and stay abreast of key issues facing our community. The Gwinnett Cares initiative now lives at and is powered by the Gwinnett Coalition.
Stakeholders from all sectors are continuing to join the effort, hence, we are constantly expanding Gwinnett Cares' reach and impact. If you would like to connect and engage with one of the Gwinnett Cares response or support teams, please contact us.
Our Impact In the Community
These stories are a true testament to the heart of our community. Gwinnett Cares is powered by many hearts beating as one to care for each other.