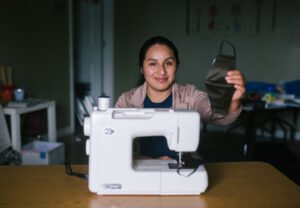 With COVID-19 ransacking the world, Corners Outreach saw a need for masks, as well as the need for employment in the community. In June 2020, this nonprofit organization launched "More Than A Mask," which has employed an average of 15 to 20 women. The women have made and sold more than 5,000 masks to the community through their website, as well as an additional 3,500 masks via a partnership with Wesleyan School and Greater Atlanta Christian School.
"More Than A Mask" is an amazing employment opportunity for women to invest in their children by working from home, while also earning much-needed income to help support their families. Corners Outreach provides any training needed, as well as sewing machines and material. The seamstresses feel great purpose in helping care for their families as well as providing our community with critical protection from COVID-19.
If you are interested in supporting the women and the families of "More Than A Mask" while helping curtail the spread of COVID-19, you can purchase their reusable cloth masks for only $7.00 at https://cornersoutreach.org/morethanamask. Special pricing is available for those that want to buy in bulk.