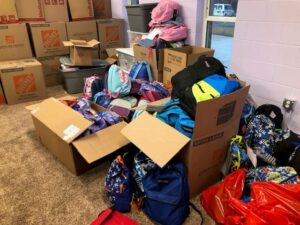 HomeFirst Gwinnett gives the homeless people of Gwinnett County the biggest gift of all: opportunity. By giving these individuals fundamental choices and options to rebuild, HomeFirst Gwinnett helps open their eyes to see that they can break the bonds of homelessness and live their lives again. HomeFirst Gwinnett offers options, empowerment, confidence, and hope.
There are approximately 10,000 individuals in Gwinnett county who are living in some state of  homelessness: whether they're sleeping in encampments, parking lots, or living transiently in extended stay motels. As the pandemic rages, Gwinnett's homeless population continues to grow. HomeFirst is on the front lines addressing their real-time needs with other Gwinnett Cares partners.
A recent partnership with Hope Thru Soap and Do Something Incredible enabled a coat and clothing giveaway event, the making of over 600+ blessing bags, and the recruitment of volunteers for Gwinnett warming stations and the Point in Time Count coming up in January. This is collaboration at its best. This is what Gwinnett Cares is all about!